A report is simply a dashboard that contains different indicators (or KPIs for Key Indicator Performance). Present in all professions, reporting is one of the tools most used by sales people. A reporting solution provides a global view of the performance of sales teams! A report also allows an in-depth analysis of the sales strategy and commercial management!
The needs of the commercial
In recent years, the sales profession has changed a lot. The digitalization of the profession has disrupted certain practices. Nevertheless, the business remains deeply rooted in its original function: sales! Sales people are field employees and they want to sell! They don't necessarily want to spend hours in front of an Excel spreadsheet or an overloaded dashboard!
The sales team's missions are diverse: client portfolio development, price negotiation, telephone prospecting, customer relationship management, conduct of business negotiations, etc. Sales time is limited! With such a workload, he must focus on his performance and be able to analyze it! Thus, thanks to reporting, the sales representative and his manager observe what is effective and the different areas of improvement. They also anticipate future performance.
A salesperson is connected to customers and prospects. He must know them inside out. Sales teams organize themselves to draw up a picture of prospects and customers. This operation is necessary both to know in which phase of the sales funnel the prospects or the requests of the customers are located but also to facilitate the integration of new sales. The departure of a salesperson is also the risk of seeing a part of the client portfolio leave at the same time as him. Moreover, the integration and training of a sales representative takes an average of 6 months. To limit this damage, communication is crucial. Once again, reporting is a valuable ally.
As we briefly mentioned earlier, sales people need challenges. This is a business that requires total commitment. Setting up goals brings dynamism (and competition) to the sales team. Objective setting is only possible if past performance is observable. Commercial reporting is the ideal tool to bring challenges! In addition, we have to be honest, the bonuses of sales people depend partly on the achievement of these objectives. Commercial reporting is therefore the key to obtaining these bonuses.
Commercial reporting: some good practices
It's an interactive Powerslide !
Reporting is not a spying tool.
Sales people are very independent, and that is probably what they are looking for in their trade. If a report becomes a coping tool, the morale of the sales people will be lowered. If providing data becomes a constraint, it will only be counterproductive. Commercial reporting that loses its ability to challenge and communicate affects sales people, they will be inclined to provide incomplete or even misleading data. Everyone loses!
Weekly commercial reporting? monthly? semi-annual?
It depends on your industry and your customer base. In some industries, decision-making can be long. This is the case for industry. For example, the sale of raw materials or the treatment of toxic waste takes time. It is therefore not necessary to require a daily or weekly update of the report, opt rather for a monthly report. On the other hand, if your customers are private individuals or evolve in certain service sectors (or crafts), the frequency with which sales people have to record their data is shorter. The data are collected on a weekly (or even daily) basis, since the need is always there!
Reporting and simplicity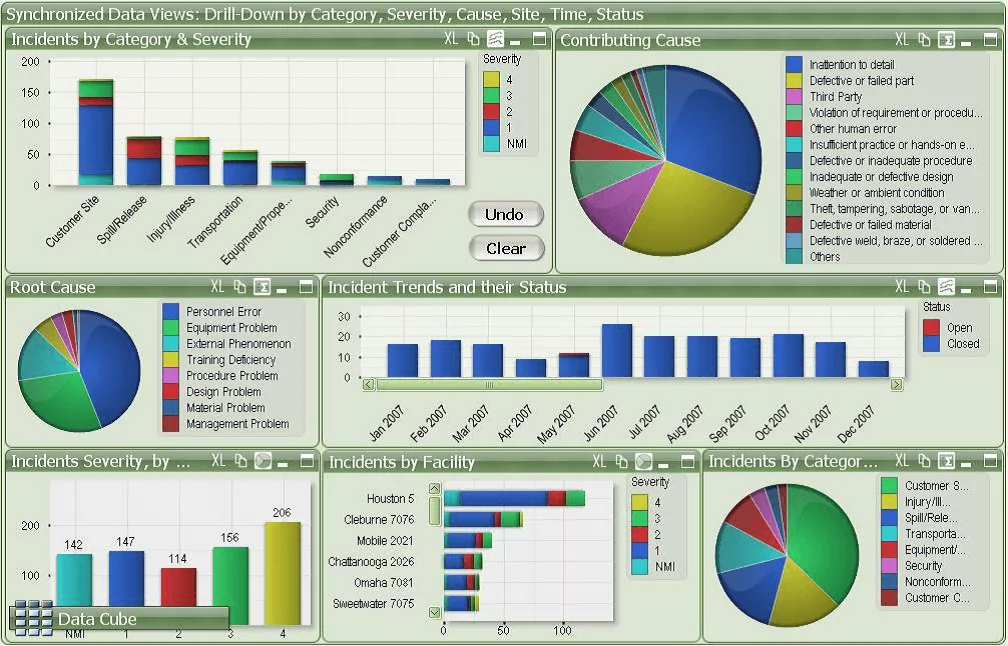 Example of very poor reporting
Do you understand anything about this dashboard? It contains so much information that it simply becomes unreadable. Commercial reporting is effective if it delivers clear and relevant information in a few seconds. Furthermore, if your reporting is intended for sales teams, managers, management or marketing teams, try to avoid technical KPIs that can be understood by a small minority. In addition, consider integrating data visualization and data storytelling best practices into your reports.
It is therefore preferable to build a dashboard with the most useful KPIs. They will help you make decisions and achieve your objectives. Let's face it, a 10-page report with uninteresting data will never be read! In addition, quantitative and qualitative data must always be combined. Thus, a commercial report contains indicators such as:
The number of qualified leads per day/week (day or month)
Percentage of target achieved
The number of appointments obtained per day/week (day or month)
Number of commercial proposals made per day/week/month
Sales repair by region
The number of your customers and prospects by business sector
The number of orders
The conversion rate
The average basket
Customer satisfaction index
The CES (Customer Effort Score)
Number of claims
Customer loyalty rate by zone and product
Regions with the best revenue (in map form)
With Powerslide you will be able to quickly build your reporting, which in addition to offering you an accurate and simple visualization of the data will be interactive.